Here is this week's contest round-up!

First up is from Karen at Pediascribe. You could win a beautiful baby blanket from iHemstitch. Believe me, these are worth a look - each one has a crocheted border around it that makes it truly special. You have until November 18th to enter. And don't forget to head over to Pediascribe and check out Karen's contest for Lunapads! This one ends on November 26th.

There are some great contests over at Bloggy Giveaways this week! If you hurry, you can enter to a gift package containing $140 in free imported bath and body products from Bath Body Junky (enter by today, November 17th). Or you could win a beautiful silver 'Sparkle' necklace from Lisa Leonard (enter by tomorrow, November 18th)! And check this one out - you could win either one of two notebook 2008 planners or one of two Fridge Grid Pads from BusyBodyBook (enter by November 19th). The last one this week is from Kari and Kijsa - you could win a "Step 1--Color Your Room" package to help with a room makeover (enter by November 21st).


The Christmas giveaways continue over at
5 Minutes For Mom
! You could win one of 10 copies of the latest
My Bedbugs DVD "Let's Play"
, one of two
365 Activities You and Your Child Will Love
book and
A to Z Activities for kids
activity card sets, or one of two
Gymboree In a Princess Castle Giant Color Me in Poster Sets
, one of 5 prize packs including the
Spider-Man 3 DVD
and
Spider-Man 3 Thinkway Command Action Figure
, one of six packs of ten
Kodak Celebration Single Use Cameras
, a
Secure2Me Baby Blanket
, a
Joovy Caboose Ultralight stroller or a gift certificate for the same value of $229.00 towards anything at
StrollerDepot.com
, or something that is right up my kids' alley -
a prize pack including a K'NEX 15th Anniversary Tub and a KID K'NEX Undersea Pals Tub
. My girls love K'Nex! Don't forget that you have until November 25th to enter all of these Christmas Giveaway contests.
This week's
5 Minutes for Books
giveaway selections are a copy of either
The Teen Whisperer: How to Break through the Silence and Secrecy of Teenage Life
by Mike Linderman,
My Life Unscripted
by Tricia Goyer, or
What Your Daughter Isn't Telling You
by Susie Shellenberger and Kathy Gowler.
And don't forget that there's still time to enter these great giveaways over at
5MFM
- you could win your choice of
a pedal car, a record player, a Coke cooler, or a gift certificate for $179 from
Pedal Cars and Retro Collectibles
(enter by November 30th), or a
Josh Turner
prize pack (enter by November 20th). You could also win a
MetroWrap™
(enter by December 1st).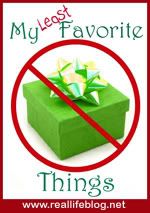 Don't forget about the "My Least Favorite Things" carnival over at
Real Life
! The first edition will be posted on November 20th so start thinking of ideas for your post.