I am hot, sticky and sweaty after all morning outside in the 80+ degree weather at soccer games but will be enjoying the a/c as I sit here and work on this week's contest round-up. Is it really October??? Last year we were freezing through soccer season... (sorry this is a bit late - I started writing this post during nap/quiet time but didn't quite finish so had to wait until I could steal a few more minutes...)

I want to explain a little bit about why I've been doing these contest posts every week. I read a lot of blogs - probably too many! - and I come across some great giveaways that very generous people hold and want to share them all so that all of you have the chance to enter. I enter the ones that I'm interested in and I've won some great prizes! Like a couple of books, a great DVD on using slings (I still need to buy a sling one of these days), notecards, coupons and even a set of tools.

And an iPod.

Yes, you read that right - yesterday I found out that I won a brand-new 8 GB iPod Nano from one of the incredible giveaways that ProBlogger is having right now! Believe me, you can win some great prizes - all you have to do is to enter. For the iPod giveaway, there were 5 prizes and only 24 hours to enter. I wrote a truly bad poem in the comments and was one of 465 commenters. And I won!! Thank you so much to ProBlogger and especially to Stephanie from Back in Skinny Jeans who offered the iPod that I won. I'm looking so forward to listening to my favorite music and podcasts on it soon! :)

Are you really curious about the poem that I came up with after about 30 seconds of thought? Believe me, it's bad. Hey, there was no requirement that the poem you were supposed to write actually be good! And since rhyming was recommended, well ok - here you go. Just keep in mind that I could have probably written an actual decent poem if I'd wanted to! Or at least a better one... :)


I'm a new Problogger reader
And very glad to have found it.
I've added it to my blog feeder
and reading Darren's tips is something I won't quit!
Yes, it's bad. I know. But, hey it was worth it! :)
So don't forget to check out the great giveaways that I came across this week - you could win something awesome!
We'll start off with Problogger because they are not done with their
$54,000 Birthday Bash Competition
giveaways. Right now they've been doing a series of every
8-hour giveaways
for some incredible prizes. I can't enter most of these since I've already won something, but I do plan to write a post later to enter their
charity giveaway
, although no matter which individual wins that one, we all win because they are giving $1000 to the winner's favorite charity. Head on over and find out how you can enter!
Over at
Rocks in My Dryer
's
Bloggy Giveaways
page there are some great prizes you could win! Like a
Jesse Tree
, one of 3
Christmas CD
's or one of 5
Christmas DVD
's from
PraiseBaby
(enter by October 8th), or a baby
sweater set
from
Munchkin Heads
(enter by October 7th).
5 Minutes from Mom
has a couple of great giveaways going on right now too! You could win either a
Pajama Party In A Box
or
Marvelous and Fabulous Me Quiz Book
from
LittleMissMatched
(
enter
by October 8th), or a
Casio Pink EX-Z75 digital camera
in support of
Breast Cancer Awareness Month
.
"

The special-edition pink EX-Z75 will be available beginning October 2007 and can be purchased at Sears, La Curacao, Fred Meyer, BJ's, Nexcom, AAFES, Staples, and Future Shop. The bundle package will have an MSRP of $179.99, and will proudly sponsor the National Breast Cancer Foundation. For more information, please visit

www.casiousa.com

.

"
You have until October 26th to enter this one and help spread the word about Breast Cancer awareness. And remember to visit the
National Breast Cancer Foundation
and the
Breast Cancer Site
for more information about how you can help promote awareness.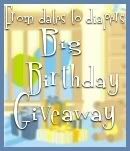 Check out the
week of giveaways
over at
From Dates to Diapers and Beyond!
, starting on October 21st! You could win a great prize like votive candles, a set of no-slip clips, and more!
Over at
MyLilVenture
you could win a queen size mattress and two pillow encasements from
CleanRest
. Enter by October 31st for your chance to win!
You could win a
Deluxe Emergency Kit
(an $82.99 value for 2 people) from
Asioo
and
MomViews
. This one ends on October 7th, so hurry over!
Jenn from
All Natural Mommies
has put together a
fun scavenger hunt
! It's already started but it'll go until October 31st so there's still plenty of time to get in on the hunt. All you have to do is look for the Scavenger Baby hiding on one of the sponsors' websites every day and click on it to enter. Check out the
calendar
to get started!
It's time for the
October Write-Away Contest
from
Scribbit
! This month's theme is "Things that scare me" - very appropriate for Halloween. You have until October 17th to write a post and submit it for a chance to win a collection of mystery, suspense and thriller novels! And check out Michelle's
Saturday giveaway
for this week - you could win a set of Organizing Bags! Enter by 12 am Monday on the entry form
here
.
If you're a member of Work It, Mom you could win a
KODAK EASYSHARE 5300 All-in-One Printer
by writing a Member Note about a recent moment in your life that you'd like to capture in a photograph, or a photograph you have that captured a special moment. You have until October 11th to enter this one.
If you didn't win a
BusyBodyBook
planner in last week's
5 Minutes for Mom
giveaway, here's another chance! Over at the
A.B. Baby Boutique blog
they are giving away The BusyBodyBook 2008 Calendar Organizer and Fridge Grid Pad. You have until October 10th to enter!
In October you can
win over $1,505.90 worth of Mom 4 Life products
! There are lots of great things to win and several ways you can enter over the various weeks, so head on over to check out how you can win!
Check out the
2007 Pinks & BOOs Halloween guide
button over on my sidebar - if you want a chance to win a great Halloween-themed prize pack from
Pinks & Blues Girls
, head on over to find out how to enter by October 15th!
Chelle from
Crazy Thoughts
is moving to Canada and she's looking for your best tips for keeping kids amused on long car trips. Head over to share your ideas and you could win a play silk! You only have until tonight at midnight on this one though, so hurry!
There's still time to enter some of the contests from previous weeks' contest round-up posts - check out
Our Seven Qtpies!
Plus the contests at Pediascribe ,
It's Write Now,
and Camy's Loft don't end until the end of October so there's still time to enter those as well.

Have a great week and good luck to everyone! :)