Here is this week's contest round-up! Some of these are carryovers from the updated midweek edition from last week, but there are a few new ones as well.

Over at 5 Minutes For Mom, you could win a set of mattress covers for every member of your family from Protect-A-Bed. Enter by November 2nd for your chance to win! You also can still enter to win one of two great books at 5MFM - either The Dead Whisper On or The Little Black Book of Style. And if you have Wiggles fans in your house, you'll be interested in their giveaway for one of 5 copies of the new DVD, Getting Strong (enter by November 2nd).

Right now over at Bloggy Giveaways you could win custom photo cards from Photo Card Designs (enter by October 28th), a Bob unit (you've got to check this one out - I love the idea! Enter by October 29th), or a $26 gift certificate to Vienna's Treasures (enter by October 30th). And don't forget that next week is the Fall Y'all Bloggy Giveaway!

There's still time to enter to win a pink Dyson, so head over to The Domestic Diva and enter her contest by October 31st!

Shaktronics is giving away a Rocketfish™ Wireless Multimedia Bluetooth Keyboard and Laser Mouse Combo. Head on over to see how you can win! Enter this one by October 30th for your chance.

One of these days I still would like a baby sling. Preferably before Becca completely outgrows it... Maybe this contest will be my chance to win one - Mamanista is giving away one Rockin' Baby sling! You'll have until November 13th to enter. And Mamanista is also giving away a SIGG Kidz Safe Sippy Cup as well (enter by November 6th).

At My Lil Venture, you could win a set of Protect Your Sleep Bed Encasements (1 queen size mattress encasement and two pillow encasements) from CleanRest. These are wonderful for anyone with allergies or asthma so head on over and enter by October 30th!

Head over to Pediascribe and check out Karen's contest for Lunapads! You have until November 26th to enter.

Right now at Blessed Nest, they are holding three different giveaways in honor of Breast Cancer Awareness Month. All of the products involved have been donated by The Spoon Sisters and include Pink Ribbon Awareness Rubber Duckie in Soap, Pink Ribbon Hankicards, Pink Ice Cream Spoons- Set of 4 and much more! You have until midnight on November 7th to enter.

At the Mom Blog, you could win a Comfy Easy PC for your toddler! Enter by November 3rd for your chance.

Here's a big one. One that I would so love to win. Click to enter for your chance to win a Walt Disney World® dream vacation for 8 from Sharpie®! The deadline to enter is December 31st.

You have the chance to win a Epson PictureMate Dash Photo Printer from emoms at home. Enter by November 1st.

Over at Crunchy Domestic Goddess you could win a t-shirt for your little one from Bitty Braille. Head on over before November 5th to check out how to enter.

It's almost Halloween and you know what that means... Halloween photo contest time! An Island Life is holding one until November 1st - enter before then and head back afterward to vote for your favorite! The winner in each category (best child costume, best adult costume, best pet costume) will win either $20 cash from PayPal or a $20 gift certificate to Amazon.com (their choice) plus a 2008 Hawaiian Pictorial Wall Calendar. Kailani is also holding a couple of other giveaways - you could win a t-shirt from Poopasnuffas (enter by October 29th) or a baby girl bracelet from Sher's Wares (enter by October 31st).

And speaking of Halloween, check out From Under The Clutter on October 31st for Lynnae's Tip or Treat! Here's what she's doing - it sounds like a lot of fun!

"To participate, you may either post a "tip" (a blogging tip) or a "treat" (something nice about a fellow blogger). I hope if you are posting treats, you will pick bloggers that you don't know very well. I want to encourage people to get to know each other better.

I also hope that as you read through the tips and treats, you will comment on each other's blogs. Get to know your blogging neighbors! You never know what friendships will be formed!"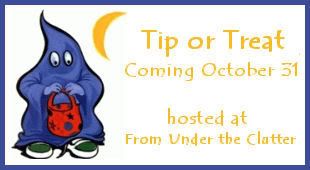 And for those of you who made it to the bottom of this post, click
here
to get a coupon for a free bag of Halloween candy from KMart - it's good through Halloween day.
As usual, if you know of a contest or giveaway that I missed, just e-mail me or leave a comment below and I'll add it in! Enjoy and good luck! :)