Here is this week's contest round-up! :) Edited to add a few new ones - you'll see them in blue...

Here's a big one! You could win an iPhone from I make Money On Facebook! What an awesome giveaway - hurry over because you only have until January 10th to enter!

Bloggy Giveaways is back after a holiday break and has several great giveaways running right now. You could win one of four prizes from Sarah and Abraham, including one set of 15 personalized gift tags, one set of 18 blank gift tags, one personalized 8" x 8" or 8" x 10" illustration, or one personalized 5" x 7" illustration. Enter by January 7th for you chance at one of these. You could also win a $50 gift certificate to KLEAN Bath and Body (enter by January 8th), or one of 3 planners from Bizzimom (enter by January 9th).
Also - there's another edition of Shannon's giveaway carnival coming soon - she's going to run it once each quarter. The next mass giveaway is scheduled to run from January 28 - February 1.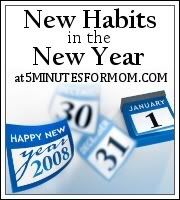 At 5 Minutes For Mom right now the New Habits in the New Year giveaways are going strong. There are many great prizes you could win, including a Busy Body Book Family Planner, three Minusbags totes, a Family Dinner Box of Questions for 2 winners, how to enter 2 contests at Floridajuice.com, and five copies of the book Growing Friendships. You have until January 8th to enter all of these.

Check out An Island Life and An Island Review for Kailani's giveaways this week! You could win a copy of the book The Hawaiian House Now (enter by January 8th). Or you could win one of five desktop calendars from momAgenda (no deadline given).
Tangled and True is ringing in the New Year by having a giveaway a day for 2 full weeks! There is one week left, and each giveaway is only open for one day, so so head over every day next week (January 7th - 11th) to check out what you can win!
Here's a chance to win free movies for a year! Head over to
Table for Five
and see how you could win a year's supply of
Orville Redenbacher's Natural Popcorn
AND a 12 month subscription to
Netflix
! But hurry - you only have until today (January 5th) to enter.
Check out
superdumb supervillian
to find out how to win a necklace of your choice from
i love blocks
! You have until January 6th to enter.
Over at
Mommy Cracked
you could win a framed print from
Olive Kids
. Enter by January 7th for your chance to win!
A couple of weeks ago, I won an amazing
Land's End
diaper bag from
Musings of a Housewife
. If you'd like to win one too, there are a couple of sites that are also giving them away. First, check out
Marketing Mommy
- she has 2 'girlish' (floral) ones and 2 'boyish' (frogs) ones, so you have 4 chances to win (enter by January 8th). You can also head over to
The FlipFlop Mamma
before January 9th for another 4 chances to win (she also has 2 'girl' and 2 'boy' bags to giveaway).
And
MumsTheWurd!
also has Land's End diaper bags to give away as well - 3 'girl' and 2 'boy' ones this time. Enter by 9:00 pm CST on January 14th for this one! Ok, just found about yet another opportunity to win one of 5 (3 'girl' and 2 'boy') of these great Land's End diaper bags, over at Design Mom, and you only have until 2:30 pm EST on January 11th to enter!
If you know a little girl in need of a beautiful tutu, check out the contest over at Sweet Life in the Valley - she's giving away
a custom fit ocean blue & green tutu from Princess Tots! You have until midnight on January 10th to enter.
Over at
Organising Queen
you could
win a $25 gift certificate
to
Stacks and Stacks
! And don't forget to check out her new
Organise your Home e-course
- you could have an organized home in just 12 weeks! The contest is open until January 11th.
Ordinary Days
is looking for your best 'dirt' to share with the blogosphere! She'll be judging entries in 3 categories: best picture, funniest confession and TMI. And the winners will receive sponges, each with a $15 Target gift card attached, so starting thinking now - your post has to be entered by January 11th (disregard the 9th on the button above).
Are We There Yet
is giving away a free item from the
Under My Umbrella
Etsy shop! There are lots of fun wooden designs to choose from, so head over to check them out and enter before January 12th.
Kim the owner of
thebabymarketplace.com - a great online spot for Baby Clothing, Shoes, Toys, Gifts and Cloth Diapers
is hosting the
January Gift Card Give-Away @ mommyknows.com
go on over and comment and be entered to Win one of two $100 Gift Cards!
It's time for the
January Write-Away Contest
over at
Scribbit
! This month's topic is "The Great Escape", so start thinking of your ideas now! You have until January 20th to enter, and you could win a copy of
The Double Musky Cookbook
, the official cookbook for Alaska's famous Double Musky restaurant.
Sherry at
Everything Moms
is having her
January Giveaway
- you could win a copy of the book," The Lost Memoirs of Jane Austen" by Syrie James. Enter before January 25th for your chance to win!
The Kids Birthday Fun Review
is giving away a $20 gift certificate from
Oriental Trading Company, Inc.
and a $10 gift certificate to
Amazon.com
. The more comments you leave over there, the more entries you receive - all the way through January!
A Cowboy's Wife is having a contest on her
food blog
! You can
win a Hamilton Beach® Stand Mixer
and she'll ship anywhere so everyone is eligible! You have until January 31st to enter.
Are you thinking of starting a new blog, or changing either to a different blogging platform or a new template or design? If so, check out
The Big Bloggy Move
, hosted by
After a cup of coffee
and
SortaCrunchy
. As part of the move, they're having some giveaways:
"To win a complete blog design, click here. To win a custom header click here! Don't forget to visit Megan for the chance to win a custom Blogger design. Enter all three if you'd like. Contest closes Jan 6th and the winners will be announced Jan 7th."
It's time for
HGTV's annual Dream Home
giveaway. This year's home looks incredible and is located in a real paradise, The Shore at Islamorada, in the Florida keys. You can enter every day through February 19th and a winner will be revealed live on March 16th at 9:00 pm ET.
As usual, if you know of a contest or giveaway that I missed, just e-mail me or leave a comment below and I'll add it in! Enjoy and good luck! :)