My mom is the youngest of three sisters. Her mom had desperately wanted twins and since she didn't get twins naturally, she had her first two daughters only eleven months apart and always dressed them alike. My mom was supposed to be a boy to complete the 'perfect' family. Instead, she was always the afterthought with two hand-me-downs of the same dress, one slightly larger than the other. So she always wore the 'same' dress for two years in a row. She remembers that she never had a brand-new outfit until she turned 13 years old and grew taller than both of her sisters.
Twelve years after my mom was born, her parents got their boy. And my mom felt even further left out from her family.
I know that my mom had a difficult childhood, always being on the fringe of what her sisters were doing. It's still that way - my aunts are close friends and my mom is generally invited along as an afterthought. It's simply the way things have always been. My mom says she's just used to it by now. She doesn't like to make waves.
When I was pregnant with Becca, my mom spoke to me a few times of her worries about my third daughter feeling left out. I suppose that's one reason that I try to make sure that Becca is involved in some fashion in whatever we're doing, even if she's too young to fully participate yet. My mom has brought up things that I would never have thought of - like how Becca may not appreciate having her own room when she gets older instead of being in with one of her sisters. She may feel left out of everything that Abby and Hannah share along with a room. So we'll think about switching their rooms around in a few years when Becca is older and more able to share. I never want Becca to feel left out or an afterthought.
(
Me, my Mom, and Abby in 2001
)
(
My Aunt Pat, my Aunt Barb and my Mom in 2004
)
I never met my grandmother - she died well before I was born. I wish I could give her a piece of my mind and make her see how much she hurt my mom. One thing I know for sure though.
I am not my grandmother. Becca is wanted and loved and I hope she will always feel that way. She and my mom will always have a special bond as well - being the third of three sisters.
Check out more
Throwback Thursday
over at
Pinks and Blues Girls
!
This post was also written as a submission for the: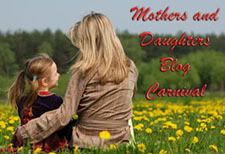 Powered by ScribeFire.