I got this idea from Michelle over at Scribbit last week. She did a wonderful job showing off 13 pieces of art in Anchorage. I'm going a bit broader than art, but I wanted to show off the top 13 reasons that I love where we live. I hope I don't sound too much like a tourism commercial, but I had to include a lot of links - more fun that way, I think!

So here are the top 13 things that are awesome about living in West Michigan:

1. Frederik Meijer Gardens & Sculpture Park – There are so many things to see and do here,
like the annual butterfly exhibit and the Children's Garden. Right now you can even see one of the 20 copies of Auguste Rodin's "The Thinker", on loan from the Detroit Institute of Arts.
2. The "B. O. B." (Big Old Building) – Four floors of food and fun in a renovated, converted warehouse building in downtown Grand Rapids. The B. O. B. offers, "each individual a different experience and houses several restaurants, a cigar lounge, a microbrewery, banquet rooms, a comedy club, a dance club, a billiards hall, live jazz and a wine cellar" (from the B. O. B. website).
3.
Ada Covered Bridge – This covered bridge is on the National Register of Historic Places and is located in Ada, just east of Grand Rapids. It's one of only 4 publicly owned covered bridges in Michigan.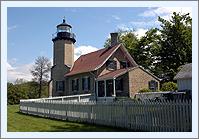 4. Lighthouses – I'm lumping these all into one category – I'll have to do my 13 favorite lighthouses on some other Thursday. The popular ones in West Michigan are the Grand Haven and Holland Harbor lighthouses. The White River lighthouse is also one of my favorites and has been turned into a museum. I love visiting lighthouses!
5. Beaches – Again, I'm lumping here, or I could fill the rest of this 13 just with beaches! But hands down, West Michigan has some of the most beautiful beaches around. Clean, white sand, fun waves to play in, no salt or tides to deal with and awesome sand dunes! Some of the nicest that I've been to around here are Kruse Park in Muskegon (has a boardwalk and steps you can climb up to the top of the dune for an awesome view), Hoffmaster State Park, Grand Haven State Park (you can walk along the river channel pier out to the lighthouse and beach and watch all the boats), and Oval Beach in Saugatuck.
6.
The Grand Haven Musical Fountain – My friends and I used to go to this every year on July 4th. I haven't been since Abby was a baby, but we really should go again – the kids would love it. Until recently, this was the largest musical fountain in the world!
7. Michigan's Adventure – Another place I haven't been in a while but I think my kids are probably about ready for it (finally – they aren't exactly big into thrills). This is a combination water park and amusement park (you get into both parks for one admission fee) and is the biggest amusement park in Michigan. It's also home to Shivering Timbers, which is one of the best wooden roller coasters around.
8. Hiking, Camping and Fishing – I didn't even know that Field & Stream had rated Grand Rapids the 6th best fishing city in America! And that's not counting all of the Lake Michigan fishing you can do around here too. I don't fish, but I think it's awesome that there are so
many great opportunities here for it. I have been camping and hiking (mostly back when I was single since Ron is not a camper or a hiker) and whether you like rustic tent camping or all the amenities, you can pretty much find all kinds of great places to camp and hike in West Michigan.
9. Winter Sports – I am not a fan of being outside in the winter, in the cold and snow. But now that I have kids, I am very thankful to have someplace like the Muskegon Winter Sports Complex nearby. It even has one of the four luge tracks in the US! Not to mention that there are lots of other fun places to sled and ski - like Echo Valley, Timber Ridge or Bittersweet Ski Resort. Not to mention miles of trails for cross-country skiing, snowmobiling and various sledding hills all over.
10. Um, shopping! Ok, so we're not New York or Chicago, but we've got wonderful shops and galleries in downtown Holland, Saugatuck and Grand Haven. Muskegon's got an up-and-coming downtown and Grand Rapids and Kalamazoo's downtowns are booming. Not to mention several great malls, an outlet mall and well, you can find just about anything you'd want.
11. Festivals, festivals, festivals! I think there's something going on almost every weekend
during the summer – no kidding! Like Tulip Time, Summer Celebration, Art Shows, and Air Shows. Then there's the Coast Guard Festival, Festival of the Arts, Unity Music Festival, Irish Festival, Bike Time, the Irving S. Gilmore International Keyboard Festival and even a Baby Food Festival!
12. I love going to the theatre – I can't afford to go as often now, but when I can, it's wonderful having so many in the area to choose from! West Michigan is rich in the arts in general. There's the Kalamazoo Civic Theatre, the Barn Theatre, Western Michigan University's Miller Auditorium, and Grand Rapids' Broadway Theatre Guild, Circle Theatre, DeVos Performance Hall, and Civic Theatre. Plus, the Frauenthal Center for the Performing Arts in Muskegon. We also have some awesome museums for everything from airplanes to fun for kids.
13. The new Gold Rush indoor water park at the Double JJ Resort. We haven't been there yet (did I mention that our kids are scared of the local splash park?) but I hear that it's a lot of fun. Maybe someday our kids will be ready for that sort of thing because Ron and I would love to try it out!
I'm sure there's a lot that I either don't know about or forgot, so here are the Top 10 Reasons to Visit Grand Rapids, and Michigan's West Coast.
Check out more
Thursday Thirteen
posts!